Motor Yacht - Radiant - 110 m - Lurssen - 2010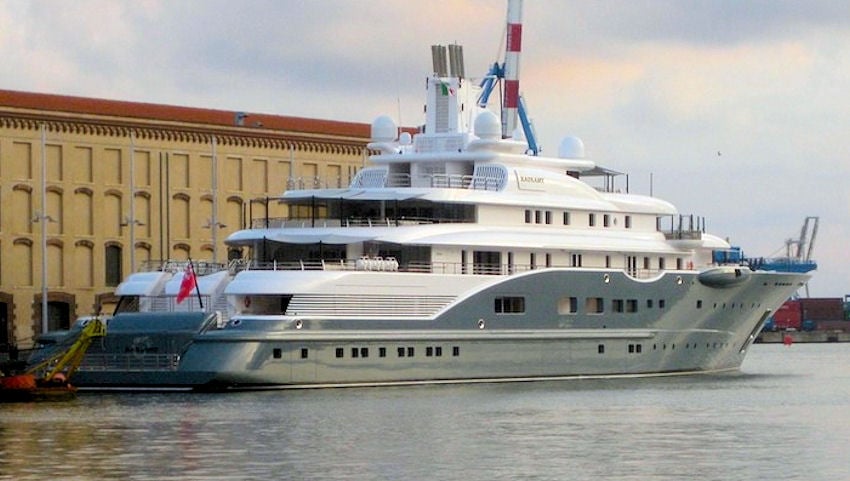 (Photo: Liguria Nautica)
Motor yacht Radiant was originally known by the moniker Darius when she was launched by Lurssen in early 2009 with few details leaked about her bound-to-be superlative amenities. Subtile style emanates from the grey hull and white superstructure of this distinctive vessel whose Tim Heywood design cuts an impressive figure on the water.
A sister to Dilbar, Radiant was commissioned by the Russian media tycoon Boris Berezovsky, who wanted a rival to Pelorus, owned by his arch enemy Roman Abramovich. However, he subsequently sold her to Abdulla al-Futtaim, a billionaire car dealer from the United Arab Emirates, before she was completed.
As well as the standard features for a yacht of this size – helipad, gymnasium, cinema, spa – she has one of the highest security specifications ever conceived. Berezovsky ordered a personal "escape launch" – a speedboat with turbo-charged twin diesel engines capable of exceeding 75 knots. She is also equipped with an arsenal of sonic guns that fire low-frequency sound waves that can burst the eardrums of approaching assailants, and a military water cannon capable of sinking an approaching boat at more than 100 yards.
Radiant is the second (after Dilbar) yacht in the world with particle filters on the main engine exhausts. She has a combined dieselmechanic and diesel electric propulsion system with exhaust gas particle filters for all the generating sets and for the main engine exhaust at lower power.
This basic idea of the Lurssen green engine concept is to avoid a significant amount of emission for both generating set and main engine exhaust gases in combination with a propulsion system of high efficiency. One aim is to avoid as much exhaust gas particles as possible at anchor and while manoeuvring in harbours, anchorages, bays or at slow speed operation near the shore line.
This target is akin to the efforts to reduce diesel exhaust gas particles in cities and populated areas.
All four generating sets are equipped with diesel exhaust particle filters, which take out more than 95 % in weight of the soot particles; These generating sets supply the power for the hotel load and for four azimuthing thrusters. With only the thrusters, the yacht is able to run at a comfortable speed and make the most of its quietness and its capability for dynamic positioning.
In addition to the cleaning of the exhaust gases of the generating sets the exhaust gases of the main engines can be treated up to a load of 1000 kW for each engine.
The combination of diesel electric propulsion (by the gensets and the thrusters) and conventional propulsion with CPP (Controllable Pitch Propellers) has the benefit of having the high efficiency of a diesel mechanic propulsion system for long distance trips.
Built to the rules of Germanischer Lloyd, Radiant reaches a top speed of 20 knots.
Shipyard
:
LURSSEN
Built
:
2010
Length over all
:
110 m
Beam
:
16.30 m
Draft
:
4.40 m
Cruising speed
:
16 kts
Crew
:
44
Guests
:
20
Owner
:

Abdullah A

l

Futtaim

, UAE
Comments
:

formerly Darius


(Photo: Liguria Nautica)