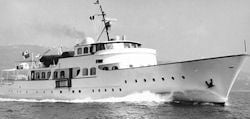 June 1997
She was built in 1961 by Witsen & Vis in Holland for fashion icon Coco Chanel with a length of 37 metres. In the 70s she was extended by 4.5 metres through the addition of cockpit and in 1988 she was cut in two halfs and a 9 metre section was inserted amidships by Merrill-Stevens yard, which gave her a complete salon amidships in addition to the more usual aft one.
In 1989 she was for sale bearing the name Edgewater and was by then still powered by two 480 hp diesels. In 1993 she was for sale once again, this time bearing the name Big Eagle and repowered with two Caterpillar 3412-diesels. Her beam was always a very slender 6.8 metres. There was actually a feature of her in February 1993 in Boat International when she was on a yacht charter at the Fort Lauderdale yacht show.
Nadine's sinking was indeed caused by the violent waves. A foredeck hatch was smashed, allowing water to flood the crew quarters and bringing the yacht down by the bow. This allowed more waves to break over the fordeck and they caused one of the large tenders carried there to shift, breaking one of the dining salon windows that overlooked the foredeck, which causing flooding on the maindeck. As if that wasn't bad enough, the violent motion of the yacht caused the swim platform to rip off the hull, allowing the lazarette to flood.
"Nadine" sank during a storm off the east coast of Sardinia, while crossing from Porto Cervo to Capri. Some people may recall her as the yacht that has an incredible number of toys onboard such as a seaplane, a helicopter, 8 jetskis, 4 or 5 tenders and much more including two large glass windows in the master stateroom that allowed to see the sea floor. Everyone onboard was saved by the Italian coast guard also thanks to all the floating devices the yacht carried.