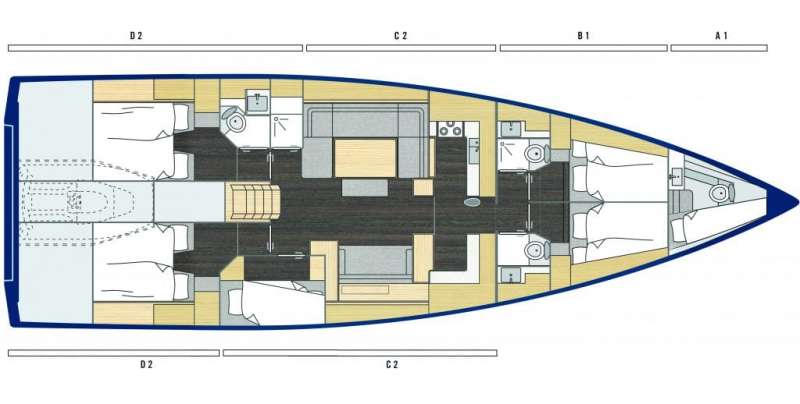 Guest Accommodation: 1 king cabin (dimensions: 3,00m x 2,06m x 1,25m) with en-suite wet heads, 2 queen cabins (dimensions: 1,56m x 2,03m x 1,10m) and 1 twin bunk cabin sharing 1 dry heads & 1 wet heads, and 1 double table conversion.
The captain's cabin and heads is fwd and separate to the main accommodation space. Sleeps 10. For charters with chef, the bunk cabin is used by the crew (sharing captain's cabin heads).
Note, the fwd king cabin can be split into 2 smaller cabins upon request.
Other Entertainment: – Double Stainless Steel Gantry With 2 x 150W Solar Panels
– Electric Winches
– Sunbathing Cushions with Head Rests and Drinks Holders for On Deck Relaxing
– Wet bar with BBQ
– Hot/Cold Shower in Wet Bar
– Dishwasher
– Television
– Fans in all cabins