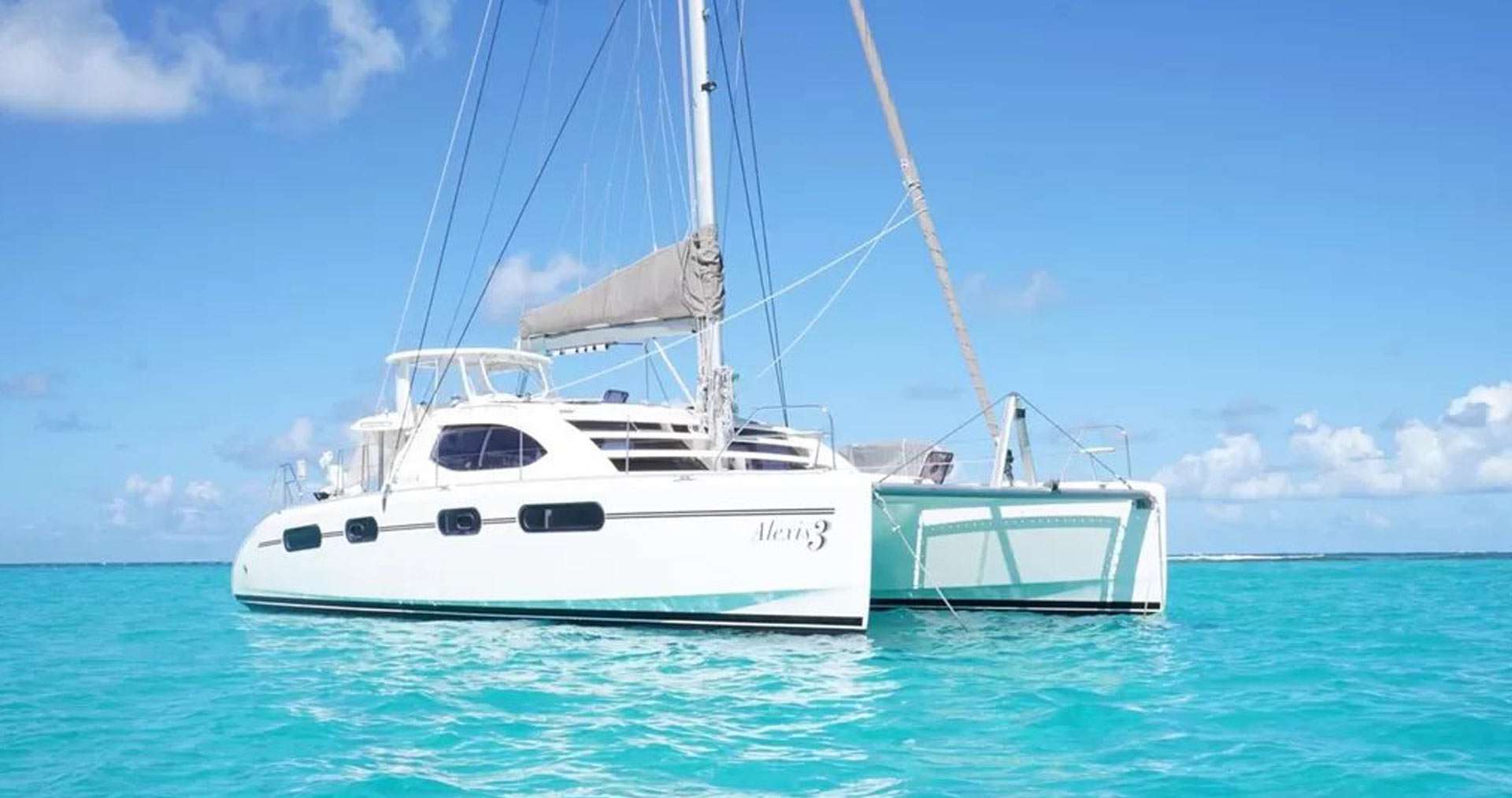 Builder
Robertson and Caine
Winter Location
Caribbean Virgin Islands
Summer Location
Caribbean Virgin Islands
ALEXIS 3 Yacht Specifications
Configuration
| | |
| --- | --- |
| Sleeps | 6 |
| Staterooms | 3 |
| Queen(s) | 3 |
| Shower(s) | 4 |
| | |
| --- | --- |
| Jacuzzi | No |
| Helicopter Pad | No |
| BBQ | Yes |
Technical
| | |
| --- | --- |
| LOA | 46 Feet |
| Beam | 24.5 Feet |
| Maximum draft | 4 Feet |
| | |
| --- | --- |
| Cruising Speed | 8 |
| Maximum Speed | 10 |
Details

9 kw generator
2 X 55 hp Yanmar engines
ALEXIS 3 Charter Toys
| | |
| --- | --- |
| Scuba | Yacht offers Rendezvous Diving only |
| Snorkel Gear | Yacht offers Rendezvous Diving only |
| Adult Water Skis | no |
| Kids Water Skis | no |
| Knee Board | No |
| Wind Surfer | no |
| Tube | Yes |
| Scurfer | no |
| Wake Board | Yes |
| 1 Person Kayak | no |
| 2 Person Kayak | 1 |
| Float Mats | 2 |
| Fishing Gear | Yes |
| | |
| --- | --- |
| Tender | 12 ft |
| Tender Horsepower | 30 |
| Tender Pax | 6 |
| Jet Ski | No |
| Waverunner | no |
Other Toys

SUP (standup Paddle Board)
Go Pro camera (stills, video and underwater)
ALEXIS 3 Chartering Accommodations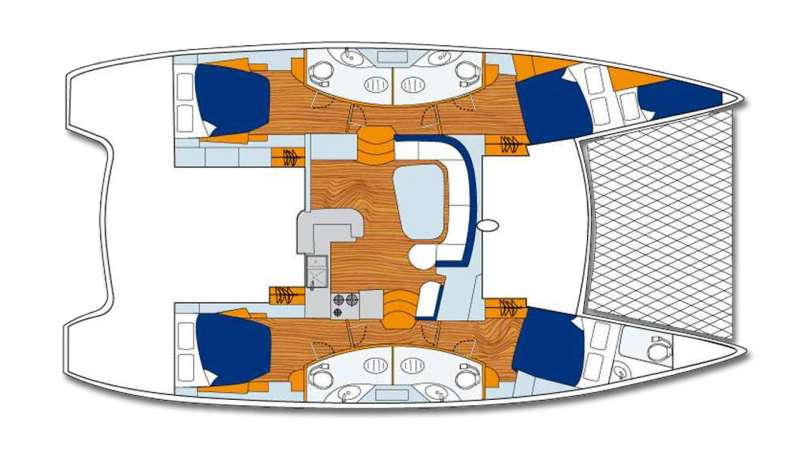 Other Entertainment:
ALEXIS 3 Crew Profile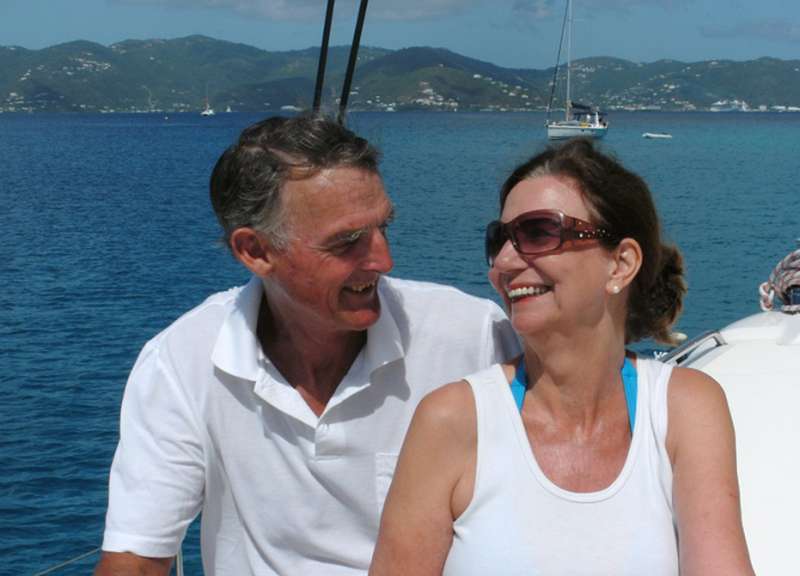 Captain Name: Geoff Alexander (Spring/Sum) & Arno von Waltsleben (Winter)
Captain Nationality: RSA & USA
Number of Crew: 2
Geoff & Bambi Alexander – Your Spring and Summer Crew on ALEXIS 3
Geoff and Bambi are back in the very beautiful Virgin Islands! After many many exciting adventures, (read more below), they have returned to the charter industry. ALEXIS 3, a 46 foot Robertson and Caine catamaran stole their hearts and before they knew it they were the proud new owners. This couple have had extensive experience, more than 12 years of sailing the oceans of the world covering in excess of 70 000 miles, in both mono hull and catamaran. From November 2003 to November 2008 they chartered their catamaran Alexis, hosting 70, one week charters, they got to know guests from all corners of the world, introducing them to the beauty and tranquility of this outstanding sailing ground.
In 1998 Geoff and Bambi first crossed the Atlantic in Alexis their 33 foot Dudley Dix steel sloop. They cruised sublimely, visiting St. Helena, Brazil and her many exotic ports including the Amazon. After a quick stop in French Guyana they sailed the magic pathway of the Caribbean island chain, up through the pristine British and American Virgin islands, then on to the beautiful Bahamas and finally a turbulent trip across the Gulf Stream to land on the East coast of America.
While cruising this incredible route, they encountered many many other vessels, many shapes and many sizes, one particular design seduced them completely, THE CATAMARAN, these specimens sailed flat! The 'Cat' attacked their imagination and they were entranced by the swift seemingly effortless gliding, spacious, upright sailing vessels. This seduction led to envy, watching the occupants draped in various attitudes of relaxation all over the decks in 15 knots of wind with glittering glasses of gin and tonic resting resplendent on the cockpit table, while they themselves were braced to windward, hanging on for dear life, dying of thirst and exhaustion!
Before they knew it, the madness took hold and they had sold Alexis 1 (for the record, there were many tears at parting) flown back to Cape Town, South Africa and taken delivery of the hull, deck and bulkheads of an Admiral 38 foot Catamaran which was to be Alexis 2. Ten months of slogging, with Geoff, the help of an electrician and a carpenter saw the boat finished and exquisite. The exhausted pair found their new Cat a thirsty beast that had lapped up what remained of their cruising kitty! (Forgive the pun) In no time at all their dream of a slow circumnavigation was receding as fast as the bank balance!
Arno and Irene von Waltsleben – Your Winter Season crew on ALEXIS 3
Winter captain: Arno von Waltsleben (62)
Joining ALEXIS 2 for the Winter 2019/2020 season, Walt is a US Coast Guard-licensed captain with 40,000 sea miles under his belt. Walt is also an ASA "Outstanding" Sailing Instructor (courses 101 through 114). Other interests include hiking, travel, movies, and of course, snorkeling!
Arno started sailing in the 1970s. He owned his first sail boat at age 32, and since then has never been without one again.
In '99, they took their family of 5 on a sabbatical cruise from Cape Town, to Ft Lauderdale. They sailed across the Atlantic to S. America and up the coast to Venezuela. Trinidad & Tobago, Grenada & Puerto Rico and more islands were visited along the way until they arrived in the US at the end of the year. In 2009, he started instructing and free-lances for the Blue Water Sailing School in Ft Lauderdale. In 2017 and 2018 ASA awarded him Outstanding Instructor.
Arno the chef, and Irene are ex-restauranteurs who owned several restaurants in South Africa and Florida before retiring from them to sail full time. Irene not only managed the restaurants, but also hosted Front of House position.
Irene and Arno have been married for 38 years. They have 3 grown children, who all love the ocean, and two are also in the food industry.
Joining Arno is his wife Irene as ALEXIS 3's chef and mate. Irene and Arno originally hail from South Africa, but now call Long Beach, Washington, home. Other interests include health & lifestyle, sewing and gardening… And of course snorkeling!
Irene has done extensive sailing with Arno, with about 20,000 sea miles to account for. She has done the Atlantic crossing, as well as all the international trips. She also accompanied him on many of his sailing school charters, both in the USA and Bahamas. She is his trusted first mate, is an excellent cook and hostess.
They are a warm and caring couple who we wholeheartedly welcome aboard Alexis 3.