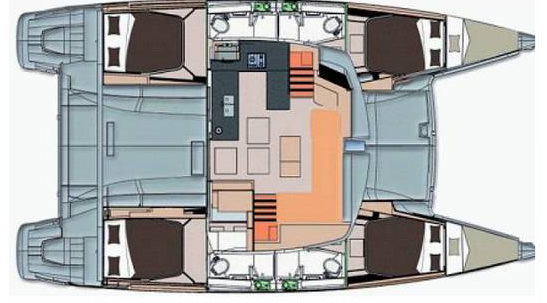 3 WALK AROUND QUEEN SIZED BEDS IN 3 large queen cabins FULL A/C. All cabins for guests have their own toilet, private shower and wash basin.
MODERN FLY BRIDGE on salon roof where guests love to sun tan or sit with their captain during sailing and also the guests favorite spot to enjoy happy hour treats and drinks. All modern perks can be found on Dolphin Splash – 2014 brand new.
Other Entertainment: • Guided Snorkeling Inc. NIGHT SNORKELING! (with explanations on fish behavior for the marine biology enthusiasts)
• Chef Pevon offers cooking/baking workshops for kids… or adults if requested .
• Chef Pevon personally sources all our produce, ensuring premium quality. (no provisioning companies)
• Capt. Andrew involves and teaches guests how to sail and will even issue certificates for mile builders.
• Turn down service. We close curtains, turn on bed side lights and pre-chill our cabins before our guests retire for the evening.
• 'The Baths' to yourself. Capt. Andy gets up at 5.30am and moves the boat to Virgin Gorda. We are first in at sunrise to experience this walk by ourselves, getting unspoilt photos and avoiding the crowds.